South Point is the Southernmost point in the United States. It provides a beautiful view out over open pacifc and perhaps the chance to meet some fisherman. One of my favorite hikes! Don't miss it! There is no point in looking for a marker to tell you this is the southernmost point because you won't find it. This is a great place to safely go cliff jumping though if anyone tells you to come back up through the holes in the rocks don't listen to them, use the fisherman's ladders (but hang on tight!). The cliffs are high, so there might be plenty of tourons taking photos of you jumping off.
If you do jumping be very careful about currents which can carry you to Japan or swells that can bash you into the rocks. Don't go if the wind or seas are high. Also we talked to a guy who spearfishes there and said he has seen 15 foot sharks right off of the cliff.
Directions: Take highway 11 to the south. On your map of Hawaii, there is a yellow road that leads right down to the tip. That's what you're heading for. There are signs for South Point on 11. You take this road past old windmills and farms until it turns into a poorly paved road (the landscape begins to look like Ireland!). Once on this road there will be a few roads heading off to the right. You want to take the first road that looks as though it goes strait for a while and banks left with the contour of the land before heading down a bit towards the wharf! Once on the side dirt road to the right you will hit the cliffs and the fishermans' ladders within a few minutes (this is a dead give away that you're in the right location). (if you stay on the initial road you will hit some scam of a visitor's center and a paid parking area this is too far- turnaround and head back- although it is possible to do the green sand beach hike from here- it does not allow for cliff jumping!). This road is in really bad condition which is why the drive takes so long. We did it in a minivan, but a jeep or suv is ideal.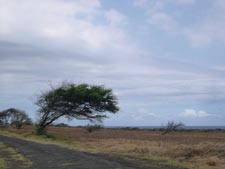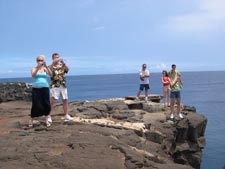 Basic Driving map of the Big Island