Green Sand Beach is a beautiful little beach hidden away in the middle of some stark grassy sand dunes littered with years of trash that was once in the ocean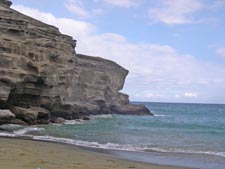 and washed up on shore. There is a great beach for swimming but the waves and currents are strong so be careful. Bring a lunch or a snack and lots of water and guard against the sun. And yes, there is green sand.

The hike itself is no fun but the reward is well worth it!- lots of dry hiking that is exposed and very dusty and hard sand hiking! There are no real directions- just follow the jeep roads till you get to the big bluff! NOTE: The hike takes an hour, bring lots H20 and boots, it's no joke.


Directions:
Coming from Hilo on Rt 11: Go left on S. Point Rd, go about 12 miles to a right turn for cliff jumping or continue straight to Green Sand beach. Park either lot, no fee. There are lots of old jeep roads in the dunes and they all lead to Green Sand Beach (just don't stray too far from the coast). It is about a 2.5 mile walk one way (completely flat and completely exposed to the sun) before you see a large dark chunk of smooth lava rock in the dunes ahead (it looks like a UFO hit). It will seem like you are walking for a lot longer than you are but the beach is well worth the hike.
Basic Driving map of the Big Island